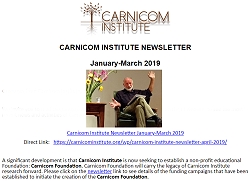 Greetings from Carnicom Institute
It is with gratitude for your interest and support of Carnicom Institute that we are sending out this short letter and a link to the Summer 2019 CI Newsletter for those of you who would like to stay current with the most recent research and activities of Carnicom Institute.
https://carnicominstitute.org/wp/carnicom-institute-newsletter-summer-2019/
In late April, Clifford and researcher Elana Freeland spoke in Santa Fe, New Mexico, at the conference: GEOENGINEERING & BIOENGINEERING-THE UNMISTAKABLE LINK. This important conference emphasized the past, present, and future of Carnicom Institute. Please click on newsletter link for more details.
The importance of this talk in regard to the future of Carnicom Institute cannot be overemphasized. Over 20 years of research and nearly 400 research papers represent the significant contributions of Carnicom Institute in its past and present roles. At this point, the role and face of Carnicom Institute must and will change. One focus within recent months has been the announcement of the need for a longer term vehicle for the embodiment of Carnicom Institute work and accomplishments. The proposed entity for doing this is the Carnicom Foundation, the structure and organization of which is outlined on the Carnicom Institute. It is only with adequate support and significant donations that the transition to Carnicom Foundation and the establishment of clinical level testing will move the research forward in a way that truly serves the public good. Please click on the newsletter link to see details of the funding campaigns that have been established to promote the development of the Carnicom Foundation.
If you know anyone that understands the importance of what is being stated here and that is in a position to provide material or resource support, please contact Carnicom Institute.
We thank you for your your support of Carnicom Institute and we appreciate all that you do to increase awareness of the important work being done.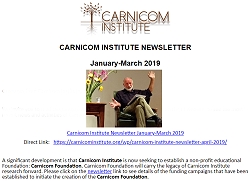 We thank you,
Clifford & Carol Carnicom
Carnicom Institute
---
To cancel click here, to edit your subscription click here.
https://carnicominstitute.org/
Carnicom Institute by Clifford E Carnicom is licensed under a Creative Commons Attribution-NonCommercial-NoDerivatives 4.0 International License.