AIR FORCE SPOKESMAN
IS
"MASTER INTELLIGENCE OFFICER"
Clifford E Carnicom
Santa Fe, New Mexico
Jun 29 2005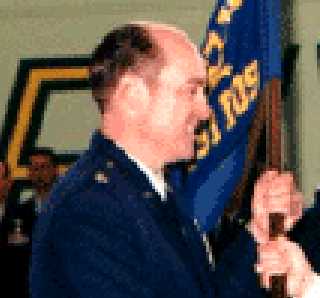 Lt. Michael K. Gibson
United States Air Force
Master Intelligence Officer
http://aia.lackland.af.mil/homepages/pa/spokesman/Oct01/atc8.cfm
It is now established that the spokesperson for the United States Air Force chosen to issue an edict on the aerosol issue is a Master Intelligence Officer. Lt. Col. Michael Gibson assumed command of the 451st Information Operations Squadron at RAF Menwith Hill July 9, 2001. Upon this change of duty, The Air Intelligence Agency in Lackland Air Force Base, Texas, states in October 20011:
"The incoming commander, Gibson, is a master intelligence officer, who has served primarily abroad at installations such as: Iraklion AS, Crete; Templehof Central Airport, Berlin; and Ramstein AB, Germany. He has been an executive officer for the commander and vice commander, of Air Force Intelligence Command. He has previous command experience as 68th Intelligence Squadron commander at Brooks AFB, Texas.
He comes to the squadron from the Pentagon, Washington, D.C., where he was the deputy chief, Congressional Inquiry Division, Directorate of Legislative Liaison, Office for the Secretary of the Air Force at headquarters U.S. Air Force. "
Readers may judge for themselves the veracity of the proclamation by Lt. Gibson by reviewing the historical record of evidence and documentation on the aerosol issue.  This record now exceeds a period of six and one-half years.
A RESPONSE TO LT. COL. MICHAEL GIBSON USAF
AIR FORCE INCREASES RANK OF LIE
OFFICE OF SPECIAL INVESTIGATIONS

---
References:
1. http://aia.lackland.af.mil/homepages/pa/spokesman/Oct01/atc8.cfm