AEROSOL GROUND SAMPLE PHOTOGRAPHS
THE EVIDENCE CONTINUES TO ACCUMULATE:
AEROSOL GROUND SAMPLE PHOTOGRAPHS
NOW AVAILABLE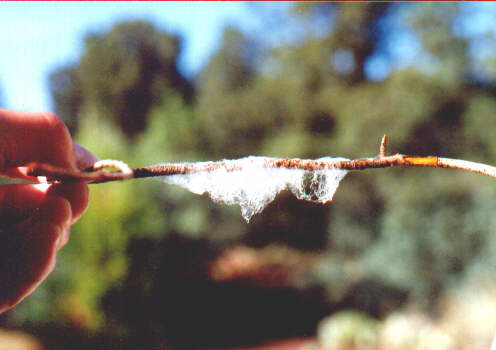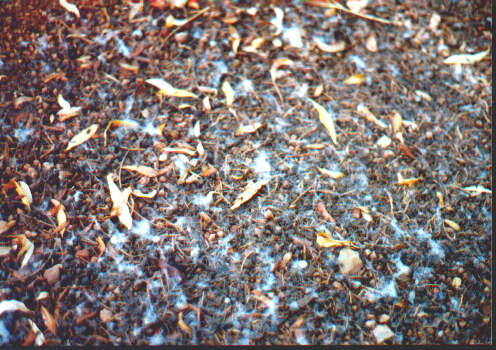 Sedona, Arizona July 10, 1999
The above photos were taken during the morning of July 10, 1999 near the town of Sedona, Arizona. The witness stated that several townspeople heard numerous low flying aircraft during the previous night. In the morning, the above scene was encountered within the yard of the residence, and it extended for several hundred feet to a neighboring lot. The witness was apparently not aware of the aerosol issue, but was sufficiently impressed by the unusual event to capture it on film. The witness collected some of the material on a stick and photographed what is shown above. The material was stated to have a petrochemical odor, and it dissipated by mid-morning. This witness states that he subsequently became extremely ill with a "viscious cough" for the next three weeks. The elevation of the site is approximately 4500 feet.

SECOND GROUND IMAGE RECEIVED
The still shots are taken from a video received which showed material falling from aircraft in Oklahoma.
The majority of the material depicted on the ground was of a spider-web nature. This sample, however, was concentrated upon a fence post. It has the appearance of a 'chiffon' like material, and the extended filament (right side of sample) moved with the breeze.